---
HI Brilliant Friends! 
I am Rebecca Abraxas. I am passionate about helping you voice your brilliance and uncover  your captivating presence that reflects the life you desire to be living, your heart based business and the relationships you desire in your life.
I care deeply about helping you become the dynamic person you know you are, yet are having blocks to expressing yourself. Perhaps you are  experiencing limiting fear, stress, self sabotaging thoughts or reactivity.   My own journey of being a shy, shut down little girl to performer  and wellness coach has given me a mission to help others shine their light,  hear their inner voice and express fully their brilliant voice.  It is through this journey that I have gained an awareness of the seeds of limiting beliefs and energetics that can block one's voice, self -expression, confidence and life.
Through the years clients and teachers have called me, "tenacious", "gentle yet strong", "a beautiful spirit" and "highly professional". I have assisted 100's of people in aligning with their true self  to have a voice in their lives.  I challenge my clients to go beyond technique to address the seeds of limiting patterns and explore their connection with their BRILLIANCE.
Healing the connection to your inner voice I have found has a profound impact on the voice you speak and sing from.  I enjoy working with people from a holistic approach that taps into exploring stressors in the body, emotions/thoughts, energy, relationships and connection to source.  The voice is a multifaceted tool for impactful expression, healing and awareness.  Through the work I offer we take a look at all these areas of the voice which helps the individual not only develop the voice but also free their life and gain health.
What else is possible when you can hear your inner voice and have trust and confidence with expressing your outer voice?
Experiences that contribute to Rebecca's present work:
Path of Ceremonial Arts: 3 year women's priestess training
Liberate the Voice of Your Soul Immersion with Chloe Goodchild
IYT Yoga Therapy training
1 Year study of The Coarse In Miracles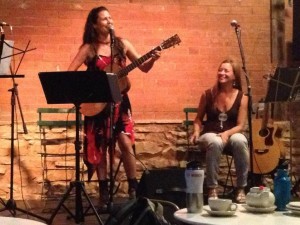 1 year study with Embodied Voice
Access Consciousness Classes/Access Bars
20 years of conscious Songwriting
2 Years of Teaching music to private K-8 school
20 years experience working with healthcare and Alzheimer Seniors
10 years of Kids performance/workshops
3 music CDs of original songs "Alive in Longmont" "The Offering" "When Heaven Meets Hell"
Acting in shorts "Sever"(IMBD credit), "Vermin" and "Unhanded
Classes with Abraham/Esther Hicks
Classes in Rolf movement, Continuum, and Pilate
Certified Holy Fire Reiki Master teacher
Certified Holy Fire Karuna Reiki Master
Cert. 200 level Yoga Teacher
Rocky Mountain Song school participant (2x)
B.S. Exercise Science & Wellness Education
Follow Rebecca Abraxas's board Access Consciousness on Pinterest.
Free "Unlock Your Power" Questionnaire
Gain Confidence & Unleash the Blocks to Your Voice Right Away