---
Scroll down
Reiki and Voice Events to inspire, uplift and Transform!
---
---
---
Rebecca's Positive Music Calendar
Rebecca Abraxas music will do a set each of these dates with music to inspire and activate your brilliance!  Each song has messages to assist you in living free, being happy and activating your brilliance!
March 15th Thursday, East Simpson Coffee Shop 7pm
April 11, Wednesday  Bitto Wine Bar, Orchard Creek, Westminster 6-9pm
Rebecca's Reiki And Voice presents
FREE COMMUNITY TALK:
How Holy Fire Can Reiki Can Support Your Best YOU
March 8th
Learn ABOUT FINDING A LIFESTYLE THAT PROMOTES AWARENESS, TRUST IN YOUR SELF, UNCONDITIONAL LOVE AND CONFIDENCE TO BE YOU IN THE WORLD .
WITH  Interactive Holy Fire Reiki meditation to experience the transforming Holy Fire Energy first hand!
6pm Alfalfas Community Room Louisville
HOLY FIRE REIKI  1 & 2 Certification Class
Holy Fire Reiki 1 & 2 is the beginning of a new paradigm of living for you.
If you are curious about developing your intuition and guidance ….
If you are ready for deep healing and change…..
If you crave another level of joy in your life…….
If you would like to enhance the healing modalities you are using as a practitioner….
If you want to learn a way to contribute more to the world…..
If you would like to learn the art of a hands on energy work ……
If you are looking for a lifestyle that aligns with spiritual and personal growth toward deep inner peace, confidence and trust
Curious? Lets chat!
303-859-3026/rebeccaabraxas@gmail.com
My classes are small and intimate. 1-5 people
Holy Fire Reiki is a new energy in Reiki that came in 2014 it offers deep gentle detox, deep development of unconditional love and a shift in ones frequency, consciousness and lifestyle toward deep inner peace.   In a weekend you will learn the history of Reiki, lifestyle tools, 3 symbols to focus your mind and the energy of reiki for healing, the Reiki Ideals, hand positions, the art of letting go and opening to guidance.  Learn self treatment, client treatments as well as how to send distant healing reiki. You will give and receive practice sessions as well as experience several deep Holy Fire experiences. You will receive the Holy Fire 1 and 2 placements. It is a weekend of deep healing, possibility and transformation.
Whole Weekend training:
$380 comes with Holy Fire Reiki Manual
Register below: (Payments non refundable, but can be transferred to a different class)
Sing Your BODY Free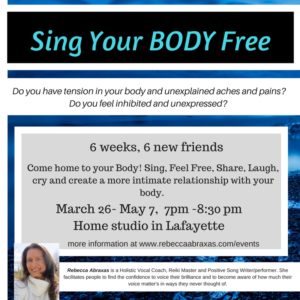 This six week class invites 6 women for six weeks to explore sound and how it communicates with their body.  Using singing, chanting, meditation, groaning toning, group discussion and sharing to explore an intimate relationship with one's body through sound.  You may deepen listening skills, increase your awareness, release tension, tune into your intuition and discover your body's resonant song of wellness.
Come home to your body and discover the harmonious life you can create together.
This class is open to 6 women
Class dates:  March 26th, April 2nd, 16th, 23rd, 30th, May 7th
Time : 7-8:30pm
Price: $150
Register here: 
Holy Fire Reiki ART/ Master Certification Class
If you are looking to upgrade your Reiki to Holy Fire Reiki …..
If you are looking to strengthen your Reiki to the Master Level ….
If you are looking to become a certified Holy Fire Reiki  teacher ……
If you have been certified in Reiki 1 & 2 from a live reiki teacher at least 6 months ago and can draw the Reiki II symbols from memory….
This 3 day certification class is for you!
Here is what the ART/ Master class offers:
Advanced Reiki Training
Healing in the River of Life Meditation
Holy Fire II Master placement which increases the strength of your Reiki energy.
The Usui Master symbol which increases the effectiveness of the Reiki II symbols and can be used for healing.
Hands on practice using the Usui master symbol for treatments.
Learn how to do a Reiki Moving Meditation
How to make a Reiki grid that will continue to send Reiki to yourself and others after it is charged.
Reiki aura clearing that allows you to remove negative psychic energy from yourself and others and send it to the light.
The Holy Love experience in which Divine Love is placed in your heart.
Pre ignition to the 3 Holy Fire ignitions to come in the next two days
Holy Fire II Master – 2 days 
The Ocean of Holy Love MeditationExperience
Receive the Holy Fire healing Symbol
 The Holy Fire Ignition 1 & 2
Receive the Healing Fire Ignition
Upgrading of your Healing guides
Experience and learn to give the Holy Fire Healing Experience to heal deeply from the past
Instruction on how to give Reiki placements for Reiki I&II, ART and the pre-ignition, both ignitions for Reiki Master and the Healing Fire ignition.
Lots of hands on practice time
Learn about Healing Spirit Attachments
How to give yourself  placements and ignitions.
Values and spiritual practice of a Reiki Master.
How to teach your own Reiki class and promote your Reiki business.
Certificate
While this 3 day  class will allow anyone to pass Reiki on to others and to teach if one chooses, many take the class for their own use or to use with family and friends. This class is a deeply healing experience
This 3 day advanced level class includes a 186 page class manual: $1000
Upcoming class:
April 20- 22,  9 -6:30 each day
Early Bird price is $900 till March 20th
(all payments are non refundable, Payment plans are available by request just email Rebecca)
Register here for Early Bird price $900 till March 20th