---
Scroll down
Find ease and joy with being YOU!
---
---
---
** Email or Call for payment plan option **
NEW CHALLENGE opening up TBA !
30 day challenge….
….to Begin trusting you and your voice.
Spend 30 days developing an intimate relationship with your inner voice and strengthening your outer voice. Begin to melt away the judgement of your voice and welcome it like a trusted friend.
Join the challenge
Weekly coaching Videos
Daily Email inspiration and tools (to start your day with)
Fb book support page
Learn ways to calm the mind, release the body and uncover your soul voice.  In this month Journey you will develop a strong witness to build vocal awareness, vocal empowerment and vocal expression.  You'll be given a daily practice to learn how to listen to your inner voice, feel confident with sounding your deepest longing and allow the flow of healing expression and song to come through you!
Week 1: Your body as an instrument of sound, information and awareness. This week's practice will be grounding our bodies and learning how to translate body tension and sensation into a message of sound through our voice. You will be given posture, practices and techniques to get to know your body more intimately as a vocal instrument.
Week 2: Your Energy system as a map to vocalizing and releasing. This weeks practice will be exploring the vowel and seed sounds of the energetic chakra system of your body.  You will be given practices that pertain to breath work and toning.  As well as how to tune in to deeper listening for sounding your unique chakra sound.
Week 3: What is the sound of your emotions and thoughts and what quality of silence and awareness can this sound bring. This weeks practice will go into deepening our attention to our emotions and thoughts not through story but through sound and begin to shift that sound into a different frequency to "tune" ourselves toward our deepest joy. We will journey with the sound AUM and play with the sound of a major and minor scale for emotional expression.
Week 4: Your deepest song is silence. This weeks practice will be a 4 step process into the depth of your silence to release your  most authentic soul song. You will be supported daily with poems, writing prompts and songs to sing to help you with this process.
Price for 4 coaching videos, 30 days of email coaching and an interactive coaching Fb community page just $20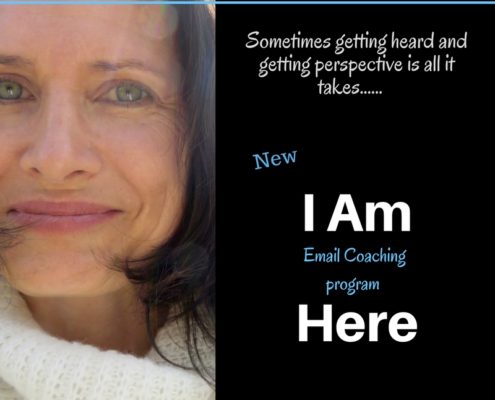 I AM HERE  4 week Email Coaching
Get perspective
Have someone of like mind to share with
Learn tools to get past personal growth hurdles
Get nurtured through a healing crisis
Distance Reiki to ease your situations
Personal growth and transformation can feel confusing and lonely at times.  This program offers you support. I AM HERE is a program to help you get through your hurdles, feel connected again, breath life into spiritual or growth plateaus and  get heard.
This program offers 1 email a day with up to 3 back and forth correspondences. Confidentiality is honored fully.
$60
Rebecca's Positive Music Calendar
Rebecca Abraxas music will do a set each of these dates with music to inspire and activate your brilliance!  Each song has messages to assist you in living free, being happy and activating your brilliance!
FREE To BE: Community Sound Healing Project 
Sharing Original chants and toning and opening up the night to community singing and sound healing.
Nov. 29 6-7pm Louisville Library
Dec. 9th Soul Tree Yoga Studio