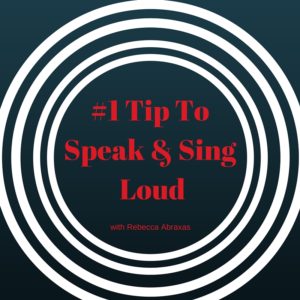 Did you ever wonder how to get your voice louder without feeling like you are straining or pushing?
So many years as a young girl people responded to me with, "Can you speak a little louder, I can't hear you"
It was so uncomfortable trying to push out a louder voice while I felt my face get redder and redder and my heart pounding faster and faster.
Today I want to share with you the #1 tip to speak or sing loud  that I have used so people stop responding to me in this way.
It is a common thing to think we have to PUSH to get our voice out… but for any of you who have given birth, you know that if you push too hard or too soon it strains your body and some really unpleasant things can happen.
As I am writing this I am realizing that speaking or singing with a louder volume is pretty analogous to giving birth because if you let energy flow and expand to allow the baby though you give birth with ease. The same thing is true with the voice.
It is NOT A PUSH BUT AN EXPANSION  that will let your voice gain in volume.
Your whole head and body,  ALL OF IT, is a powerful resonating chamber.  When you explore expanding your awareness to sing from your whole body -expanding your breath and voice out to every cell of your body you have the opportunity to get louder.
In the practice of Yoga they teach you to breath more fully. A teacher will also guide you to take your breath to different parts of you body. This is true of your voice as well. Intend for your voice to go to all areas of your body.
To start, you may want to work with just your head. Expanding the breath and the voice through your whole mouth, throat, neck and cranial bones etc.. This leads to a  physical sensation of the throat expanding, especially the soft pallet – the soft spot behind the hard bony part of the roof of the mouth.  To physically expand the throat and back of the mouth you can imagine you are swallowing an orange. Give it a try.
It stretches your throat doesn't it?
Now see if you can allow this physical expansion inform your intension for expanding energetically throughout the whole body, releasing any density from contracting in your body. This expanded state will allow you more volume. It is an exploration and a journey. Play with this and the more you do, the more you will notice it working.
Have fun Being Loud!!
Any questions? Happy to answer them in the comments
Cheers
Rebecca
https://rebeccaabraxas.com/wp-content/uploads/2015/06/Rebecca-Abraxas-Logo-300x138.png
0
0
Rebecca Abraxas
https://rebeccaabraxas.com/wp-content/uploads/2015/06/Rebecca-Abraxas-Logo-300x138.png
Rebecca Abraxas
2016-07-25 19:01:43
2016-07-25 19:05:49
#1 Tip to Speak or Sing Loud