Is tone deafness sabotaging your speaking voice?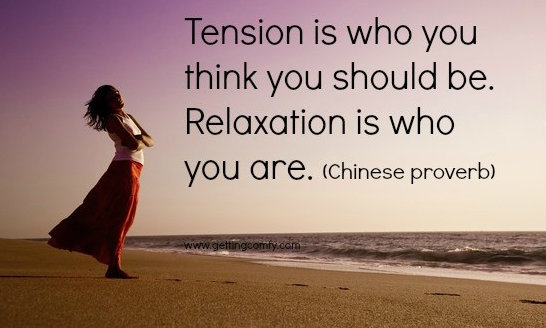 The reality is  only 2-5% of people are tone deaf.  However, many people I meet mention they can not sing.  Recently, I was in a room of 10 women, 3 of them said they could not sing and no one would ever want to hear them.  That does not represent 2-5%.
So, what really is happening and how does it compromise your speaking voice? 
I think the quote to the left can help us understand why many people think they are tone deaf but really are not.   "Tension is who you think you should be. Relaxation is who you are." Somewhere along your time line you made the decision about who you should be to be accepted and loved. You made these decisions as a small child to "survive".  It could have been a home setting, school setting or social setting.  These very old decisions became strategies to live life by.  They create a life of tension patterns not only in the body but in the mind.
Tension in the body and the mind actually can create a challenge with getting sound out of the vocal instrument leading people to think they are tone deaf or even being labeled as tone deaf  by others when actually it is not so. Getting sound out of the vocal instrument is a sensitive process.   The quality of the voice is directly effected by the tension in the muscles and connective tissue in the body especially in the neck, throat, jaw and breathing area of the torso.  This build up of tension is directly related to the mental activity that you engage in daily that is based in self judgment, thoughts of not good enough, unworthy and undeserving.  Stop that!
How do you stop these self sabotaging patterns and develop a quality of voice that is easy to listen to and easeful to share?
Again referring to the quote above "…. Relaxation is who you are."
What I have noticed through the years is that when I started to relax with a mindfulness practice of stillness, meditation and yoga the tension in my body and my voice began  to unwind.  My voice had more of a range and there was more freedom in using my voice. Since I was a singer songwriter at the time I welcomed this perk with open arms!   But I have also noticed that as I released the tension in my mind and body my speaking voice developed a warmer tone and I became more confident with speaking up.
A great place to start with unraveling the tension is deep breathing.  Allow the inhale to fill you completely. Then naturally release with the exhale. At the end of the exhale allow the belly to pull in to release even more. Now allow the inhale to fill you back up completely.  This is a deeper breath then you would be using in your every day and not the breathing pattern you would use to support your speech or singing. It is a relaxing deep breathing practice to begin to  speak to the tension in your body and restructure your mental activity.  Give it a try
Learning how to relax out of old out dated strategies and judgments can bring you back to the baseline of who you are and allow you to function in your body with more ease.    The quality of the voice is an extension of how much you are willing to relax and be you.
For more tips, tools and practices on freeing your speaking voice, opening your singing voice and relaxing into the brilliance of your voice join me on my You Tube channel or Join my monthly membership for deeper coaching blogs and coaching calls.
Voice Your Brilliance Monthly Membership