Rebecca's Holy Fire Reiki and Voice
Receive * Release * Renew 
Be your best YOU 
What is Holy Fire Reiki? 
Holy Fire Reiki is both powerful and gentle and provides inner peace, purification, healing, empowerment and guidance. Holy Fire Reiki is a combination of traditional Usui Reiki and a contemporary evolution of Reiki. It facilitates one to destress and let go of patterns of anxiety to help the body tune into its own wisdom to heal.
The energy is noticeably refined and comes from a higher level of consciousness than any energy we have encountered before. It is also more effective. Some of its attributes includes:
Works continuously even when not thinking about it and spontaneously heals issues as they come up.
Always respects free will.
Heals deeply and quickly without distress.
Heals relationships and interactions with others.
Releases worry and replaces it with a sense of safety in a most pronounced way.
Spontaneously provides guidance that is palatable for every level of life experience.
Tends to develop healthy personality traits such as love of self and others, kindness, patience, confidence, vitality, enthusiasm, optimism, trust, joy, peace and so forth.
One of the more wonderful effects is a feeling of being loved. This is a deep and refined feeling that is very nurturing.
Once received, Holy Fire energy continues to evolve in its effectiveness.
Holy Fire Reiki and Voice Healing Sessions: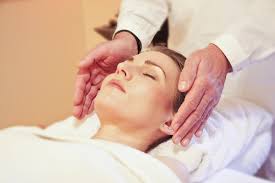 Rebecca  is a Usui/ Holy Fire II Reiki Master and a Holy Fire Karuna Reiki Master. She offers private Holy Fire Reiki along with vocal sound medicine sessions in her home studio in Lafayette, Co or Remotely. Rebecca uses hands on Reiki as well as Reiki thru her voice for sound healing.
Reiki sessions can support opening the flow of life force energy through your body which clients have noted helps increase circulation, mobility, mental health issues, stress & tension, insomnia, headaches, pain relief, confidence levels, mental clarity spiritual growth, relief from effects of chemo and radiation, a sense of trust and peace and relief from fear. On the etheric level clients have also experienced help with unusual issues involving birth trauma, ancestral issues, spirit attachments, stuck kundalini energy and unexplained discomfort.
Why Reiki and Voice? 
Holy Fire Reiki is an amazing lifestyle tool that acts gently yet profoundly to bring the subconscious frequencies to our conscious reality so we have a choice about choosing something different.
This means that areas that feel stuck in your life or that feel like they are not capable of changing due to trauma and illness can and will change if you want them too allowing peace around relationships, your body, your mind and your relationship with spirit.
Reiki works well with sound medicine and vocal coaching due to its ability to bring presence and deep healing from the past.  IF you could muscle or think your way out of it you would have done that already.    A different tool is required. One that bypasses the thinking mind and the conscious story.
To go beyond the past story or a future projection from a past story to another possibility you must choose the present moment yet this can be hard when you are tethered by a big ball and chain from a past story or life time that has densified in your body.
Reiki and Voice sessions go into the untethering process to give you more choice around expressing your self, loving yourself and enjoying your life!
Sessions can be in-Person or by phone/Skype for distant healing
Rates:
30 min taster session $60  
1hour session  -Sliding scale $85 – $110   
3 pack  $225 ($75/session) each session 1 hour – 75 min
Wellness Wednesday Reiki Clinic (First Wednesday of the month) 9:30 – 3 – try out a session for the price of a tip.
(For people who have never tried the work before.)
Community Gifting: if you are in a challenging place and would like support, I do gift Reiki as my schedule allows. Please call.  I also work with payment plans.
Book a session with Rebecca at:
RebeccaAbraxas@gmail.com    or   303-859-3026
                                                                                                                                                                         Holy Fire II Reiki I, II, III, Master and Karuna Classes:
---
Rebecca offers Holy Fire Reiki classes often,
Click Here for her most recent schedule. If you have an interest in a class contact Rebecca and your interest may inspire the next class!
Choice creates possibility!  Email or call Rebecca to share your interest in a Holy Fire Reiki class. If she is not available she will guide you to another class that is available.
Other Packages offered:
---
Family Reiki And Voice Healing Circles: Facilitating deep healing for family relationships through Reiki and Vocal Sound Healing. Helping families and their homes find alignment with their resonant frequency for optimal wellness, joy and ease with family life together on connecting soul journeys.  Particularly good for times of transition or family illness. 90min $175
Conscious Living Coaching Package: 6 pack of 1 hour sessions of meditation, sound healing, coaching and reiki to support developing an intimate relationship with your inner self. This package supports developing one's consciousness, inner voice and trust in life's journey and assists the individual in living a worry free life through developing a personal practice and letting go of the past.   $400
End of Life Reiki and Voice Doula  Package: Depending on the support asked for and the financial need this Package supports clients who are facing their transition from their body. Sessions offer music, sound healing, reiki, meditation, council and companionship to support the client and their family with not only acceptance of what is before them but also with making amends, forgiveness, life review, celebration and peace with their graceful transition. $50 – $1000