Then I have some more questions for you:
Do you feel stuck and frustrated?
Are you experiencing unexplainable ascension symptoms?
Are you unclear about how to proceed in your life?
Does life seem good but something just isn't working?
Are you longing for something else but unclear what?
Did you say YES to at least one of these questions?
Then this 6-week transformational journey may be a match for you!
Perhaps the road map you have made for yourself requires updating! What if you are being called to awaken, evolve, and step into your next brilliant possibility?
With this transformational training you will be able to:
Receive guidance, Receive allowance for YOU, Receive your voice, Receive clarity, Receive multi-dimensional healing, Receive creative flow
Release blocks, Release tension, Release fear, Release Resistance, Release judgments, Release definitions of yourself, Release beliefs, release blocks in your old light body, karmic debris
Renew your personal psychology, Renew your nervous system,  Renew your connection with your voice, Renew your present moment so you stop living from the past, Renew the present moment, upgrade your light body and chakras
You can get to a space where confidence comes naturally, where creativity flows with ease, and where you can feel potent and peaceful in your life.  What if this all showed up in positive ways in your intimate relationships, in your business, in your spiritual practices, in your parenting, in your creative endeavors,  or in your singing? Would life be different if you felt you were being "lived" by your divine essense?
By saying YES, you will:
Release tension that gets in the way of living confidently 
Create inner peace practices that work with your lifestyle
Shift out of the fear paradigm so you feel more aligned with your purpose
Release karmic debris and wounding to become more present 
Develop clarity on the phase of life you are in
Upgrade your DNA and Align with people and situations that blossom your life
Connect with your voice to be seen and heard by others
Get to a place where you embody your sovereign greatness
Upgrade your mental strategies for greater acceptance and self-worth
Here is what you get in your 6-week program:
3 /60 min transformational mentoring sessions that include discovery tools, V.O.I.C.E. training, coaching, processing as well as an accountability check-in. (video conference or in-person) (a $375 value )
3 / 60 min Marconic "no-touch" distant or in-person ($333 value)
Unlimited Email coaching in between sessions (a $100 + value)
30 min Follow up session after your 6 weeks ($65)
REBECCA ABRAXAS: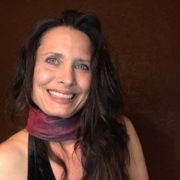 Rebecca Abraxas
Through the past 25 years, Rebecca has been a seeker following the breadcrumbs to her awakening and ascension process.  She has been certified as a yoga teacher, an Access Bars Facilitator, a Holy Fire Reiki Master, and Karuna master, and most recently a Marconic "No Touch" practitioner.  Through the past 25 years, she also has combined her wellness background with singing and performing positive music and sound healing.  This program offers the best of Rebecca's toolbox to guide clients on the next step in their evolutionary process so they come to remember their greatness.
PRAISE FOR REBECCA'S PROGRAMS:
"Rebecca has a beautiful way of channeling Reiki energy. I'm so grateful for the many positive shifts I've felt from her healing presence: increased energy, the unwinding of a trauma to my elbow, and more flow with creative expression. At the end of her sessions I always feel grounded and at peace. I've also had the pleasure of taking one of her voice workshops, which was not only fun, but also gave me many exercises and tools to help me sing and express with more ease." Anne D
Your Investment for your 6-week Renewal program:
The components in this program are valued at $873
Your Price: $597! 
Schedule a Free Discovery Call to see if we are a match