Are you ready to take a dive into more inner peace and fulfillment?
Then I have some more questions for you:
Are ready to reprogram your limited thoughts"
Are you ready to stop doubting yourself?
Are you ready to stop judging yourself?
Are you ready to stop hiding?
Are you ready to have confidence?
Are you ready to get clear?
Are you ready to stop the depression and boredom
Are you ready to let go of the past?
Are you ready to trust something larger then yourself?
Are you ready to love yourself unconditionally?
Did you say YES to at least one of these questions?
Then this 3 month Journey may be a match for you!
You KNOW you have a spark that is a contribution to this world. But is your past, your health, or your mind getting in the way of living that contribution?
You do not have to be a lone ranger any more. It's ok to reach out for support on your healing journey. In fact, by reaching out for support you may cut years off of your suffering. You may also find that you are more consistent and diligent with practices that will assist your shift.
By reaching out for support you will be able to receive, release, and renew. You can get to a space where confidence comes naturally, where creativity flows with ease, and where you can feel potent and peaceful in adverse situations.
This 3 month program facilitates you in being consistent and diligent with your healing process so true change can happen. Give yourself and the world the gift of a renewed YOU.
Here is what you get:
3 /60 min strategy sessions that include a deep healing Reiki meditation experience, discovery tools and action planning toward your desired outcome. (video conference or in person) (a $330 value )
6 / 75 min Healing/processing sessions that include distant or in person Holy Fire Reiki healing, somatic voice work, and coaching (a $900 value)
9 follow up emails to summarize our work together (a $45 value)
Unlimited Email coaching in between sessions (a $100 + value)
30 min Follow up session to after your 3 months is done (a $60 value)
Bonuses:
Audio of the 7 Sounds of Love Awareness exercise:  This wonderful practice is from the Naked Voice. It is a vocal practice that assists with tuning into the core energies that build our personality and spiritual nature.  It offers a map to create greater awareness of opening each area to its greatest possibility. (a $20 value)
Audio of the Light Meditation: This is a potent meditation to assist with expanding outward from our contractions.
(a $20 value)
REBECCA ABRAXAS: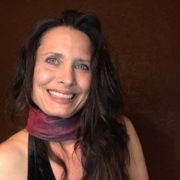 Rebecca is a certified yoga teacher, a certified life coach, Holy Fire 3 Reiki Master Teacher, Holy Fire 3 Karuna Master and an Access Consciousness Bars Practitioner. In 1993 she acquired her B.S. degree in Exercise Sports Science & Wellness. Through the past 25 years she has combined her wellness background with singing and performing positive music and sound healing.
Today she combines these healing modalities along with somatic vocal technique to offer a unique Body, Mind & Voice approach to awakening and transformation.   Through on line programs, 1:1 coaching and healing sessions, Rebecca guides her clients to release old wounding, feel more empowered in their lives and begin to trust themselves fully in being their best selves.
PRAISE FOR REBECCA'S PROGRAMS:
"Rebecca has a beautiful way of channeling Reiki energy. I'm so grateful for the many positive shifts I've felt from her healing presence: increased energy, the unwinding of a trauma to my elbow, and more flow with creative expression. At the end of her sessions I always feel grounded and at peace. I've also had the pleasure of taking one of her voice workshops, which was not only fun, but also gave me many exercises and tools to help me sing and express with more ease." Anne D
Your Investment:
This program is valued at $1,500;  But I am just launching it You are getting it for $799! 
Do you feel called to this program?
What if money was not an issue, would you say Yes?
Lets talk and make this happen for you!
303-859-3026