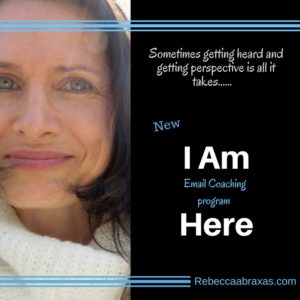 I AM HERE  4 week Email Coaching
Get perspective and spiritual guidance
Have someone of like mind to share with
Learn tools to get past personal growth hurdles
Tips to move through a healing crisis
Distance Reiki to ease your situations
Personal growth and transformation can feel confusing and lonely at times.  This program offers you support. I AM HERE is a program to help you get through your hurdles, feel connected again, breath life into spiritual or growth plateaus and  get heard.
This program offers 1 email a day with up to 3 back and forth correspondences. Confidentiality is honored fully. Distance Reiki is also offered to you with your purchase.
$60
30 Day Challenge to Sing Your Self Free
Spend 30 days developing an intimate relationship with your inner voice and strengthening your outer voice. Begin to melt away the judgement of your voice and welcome it like a trusted friend. Join the challenge!
4 Weekly coaching Videos
30 Daily Email inspiration and tools (to start your day with)
an interactive Fb book support page
Learn ways to calm the mind, release the body and uncover your soul voice.  In this month journey you will develop a strong witness to build vocal awareness, vocal empowerment and vocal expression.  You'll be given yoga practices, chants and body processes. You'll learn how to listen to your inner voice,  build confidence and allow the flow of healing expression through you!
Week 1: Your body as an instrument of sound, information and awareness.
Week 2: Your Energy system as a map to vocalizing and releasing.
Week 3: What is the sound of your emotions and thoughts. What quality of silence and awareness can this sound bring.
Week 4: Your deepest song is silence. How can silence develop your Sound?
$20
Available soon!