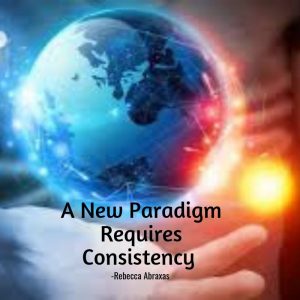 Would you say we could use a paradigm shift with what is happening politically in our country and what is happening with our earth?
I would say so!
The paradigm shift must come from us individually and spread from there.
We can be the change we are asking for and on an energetic level that energy spreads out to influence the planet.
So how do we create a personal paradigm shift?
It is my experience that a paradigm shift happens in a 3 step process:
3 steps
Choice
Awareness
Possibility
Staying consistent with this model, in my perspective is the recipe for a paradigm shift!
How it works
First, you are going to choose what you want to change. With that choice comes the awareness that something is shifting and making itself known. Here we begin to notice all the possibilities that align with the choice you just made around wanting change.  Once faced with the possibilities, guess what?  You get to choose again and the process starts all over again. AND it keeps going.
Stay consistent
Staying consistent with this process is the key! Yes, it means that once you have awareness you begin to live a life of awareness all the time. We may think this is a lot of work or responsibility, but I assure you life has way more ease and joy when you are consistent with this 3 step process then if you live by default or worse, live in someone else's paradigm of hell they think is making the world great. (no names will be mentioned but I think you may be able to read my mind with this one)
Change is consistency
We are ever-evolving and ever-changing -the most consistent thing about humanity is that we are ever-changing. It may not seem that way but we are. We can embrace the energy of the consistency of change or we can resist it.  Which do you think would bring more possibility?
Consistency is a tool we can use to ride on the creative energy of change that created humanity in the first place. By staying consistent with this 3 step process and continuing to adapt and evolve, we get to be great creators of magnitude for our planet.
Works for business building too
This 3 step process also works with creating business too! Recently I started a global health and wellness e-franchise.  I am now a rep of Arbonne international. This 3 step consistency practice has shown to be invaluable with building my team.   So I wonder what it could do for your business!  There are infinite possibilities.  Ride on the excitement of that last statement and you will create true abundance in whatever business you want to experiment and play with!
Meditating with Reiki jumps starts awareness
Something I do every day is sit and meditate with Holy Fire Reiki. Whether I am busy or not I make sure I spend time being still with Reiki.  What I have found is doing this consistently, helps me stay more consistent with the 3 step process above.  Where it really contributes to me is it helps me hear the voice of the universe and helps me discern it from the voice of my personality or ego. We are always being guided. Yet it is important to know the difference and become aware of who and what is guiding us.  I have found Reiki has given me this clarity.
Questions? Comments? please, I would love to continue the conversation!