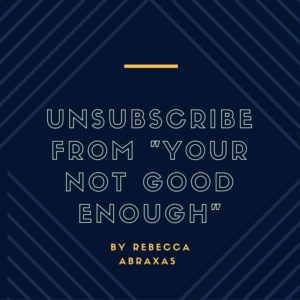 You are not Good Enough, You are not Good Enough, You are not Good Enough…
Does this sound like the script that plays in your head … A LOT?
Do you wish you could unsubscribe from "You Are Not Good Enough" ?
This script may be the subconscious script for the reality of your life, a reality with NO VOICE and NO CHOICE!
Singing,  Speaking, being heard in your family, in your work, in your dreams and with your feelings are ways of expressing yourself with you're voice that are limited and inhibited with the subconscious belief that you are not good enough.
The way I see it is you have this chain reaction that helps you become aware of where you are and what you are experiencing. At that moment you have a choice to use the information for growth and change or you can be consumed by it and victim to it.
This chain reaction is:  EMOTIONS  –  THOUGHTS –  BELIEFS   – REALITY
Check in, remember a time you felt stifled or anxious to speak, to share your voice. What happened? Did you walk away or get emotionally reactive? Did it prevent you from doing something or accomplishing something you really desired?
What if you paused in that moment and asked yourself a few questions?
What is this?     How old am I being?  Who does this belong to?  What is this?  How old am I bing? Who does this belong to?  What is this?  How old am I being? Who does it belong too?
See what happens when you substitute this script of questions instead of the "Not good enough" script.
This stops the chain of pain reaction and it eventually gives you the confidence to express your self!
Once you let your emotions form your thoughts and your thoughts form your belief system it become the reality you are seeing.
What reality with your voice do you want to be seeing??
Stifled, inhibited, shy, fearful, uncomfortable or expressed, confident, dynamic, authentic, unique
Any questions or comments? I'd  love to hear them!