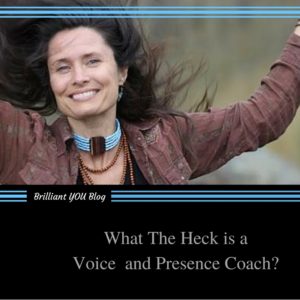 What the heck is a voice & presence coach??
In today's business world there seems to be a coach for everything – life Coach, vocal coach, wealth coach, wellness coach, business coach, performance coach etc.
I see this as a GOOD thing! To me this means people have an expertise that they want to share with others. It also means that individuals can get really specific with the support and resources they feel will help them the most.  Finally, what excites me the most is, it means people want to grow and better themselves.
They are curious about how to feel better, live better and contribute more.
This is a sign of a thriving world in my eyes!
It is for these reasons I would like to introduce to you what a voice & presence coach is and what it can offer you.
Your voice is a gateway to communicating your thoughts, feeling and emotions to those in your communities. Your voice also communicates in more subtle ways your blocks, your challenges and your inhibitions. All of this is being tracked subconsciously by those receiving your business message.  WOW!
Your presence is the unseen way your essence and frequency communicates with other people. Your presence gives information to those around you about whether you are interested, interesting or aligned with what your attention is on.  All of this is also being tracked subconsciously by those receiving your business message. WOW again!!
As a voice and presence coach I work with teachers, business owners and change agents to develop their voice and presence in a way that will be in alignment with their dynamic business message.   I become a hypervigilant scan to facilitate you in uncovering your blind spots and releasing your blocks to communicating to your communities in a dynamic way.  I help you develop your vocal awareness, vocal empowerment and vocal technique.
What that means is I assist you in gaining unwavering confidence in front of your peers, clients and audiences. You begin to use your voice more effectively. Your new passionate presence becomes unforgettable and your voice and presence lines up with your message.
You begin to walk your talk and your referrals and clients NOTICE!
Your voice and your presence are YOU.  It is my job as a voice and presence coach to get the clutter out of the way and facilitate you in functioning from this brilliant space of being that has always been there but has been tucked away.
If you are wanting more from your business, if you just know there is more of your super hero nature you want to share, if you are tired of feeling uncomfortable in your skin, if the fear of being wound tight in a bud is getting more scary then blooming , you are a good fit for a voice and presence coach.
"And the day came when the risk to remain tight in a bud was more painful than the risk it took to blossom" Anais Nin
Here are some ways to choose voice and presence coaching